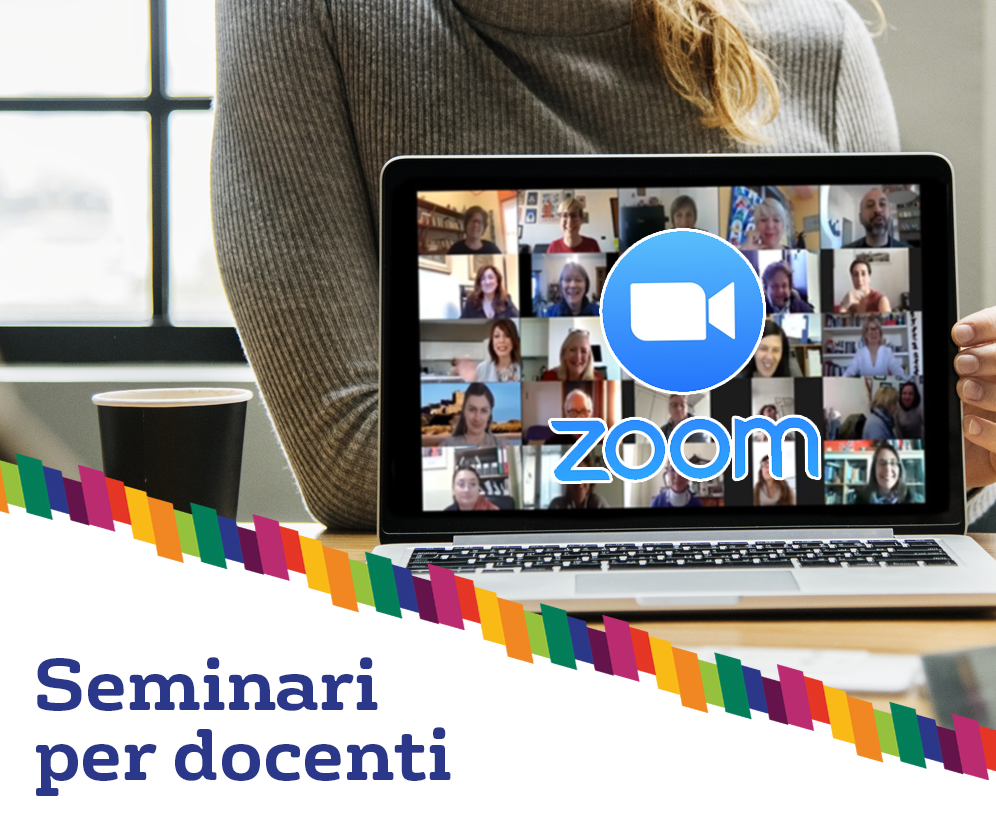 Nuovi seminari per docenti
Abbiamo programmato nuovi seminari online in sostituzione a quelli ordinari.
Online Seminar - Let's talk about conversation
Friday 22nd January 
18:00 (to book please click here )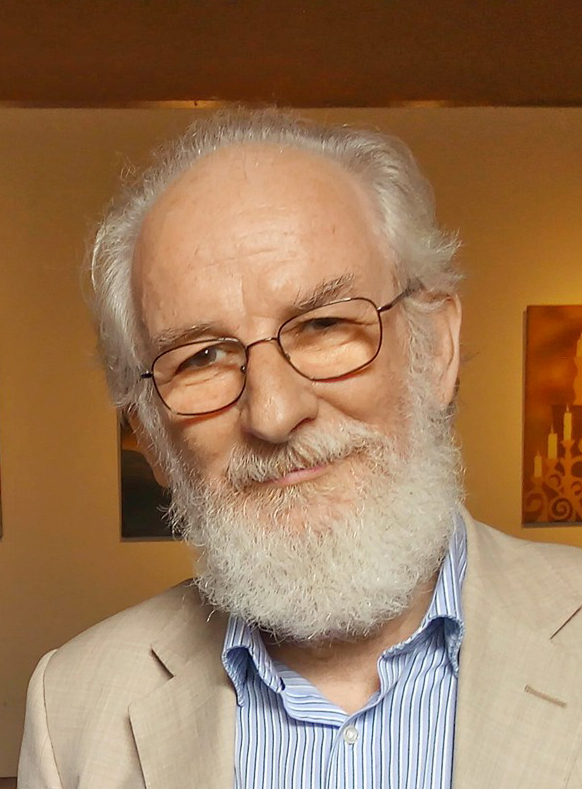 International House Palermo in collaborazione con AISLi - Associazione Italiana Scuole di Lingue - è lieta di invitarvi a partecipare al webinar gratuito che si terrà Venerdì 22 Gennaio 2021, alle ore 18:00. Il Webinar sarà tenuto dal noto autore e linguista David Crystal.
Questo webinar si incentrerà sul fatto che si dia per scontato la natura della conversazione informale perché spontanea e quotidiana; ma se analizzata in profondità si scoprono caratteristiche sorprendenti.  David Crystal incontra i docenti per esplorare insieme alcuni dei risultati riportati nel suo ultimo libro uscito nel 2020:
"Let's Talk: How English Conversation Works" e confronta le conversazioni vis-à-vis con le interazioni virtuali e online che sono diventate sempre più comuni come risultato dell'emergenza Covid-19. 
Dopo l'intervento di circa un'ora, ci sarà una breve sessione di Q&A dove i partecipanti potranno interagire direttamente con l'autore.
A conclusione i docenti riceveranno un attestato di partecipazione ai fine dei crediti formativi.
Online Seminar - Free training day for academic managers and teacher trainers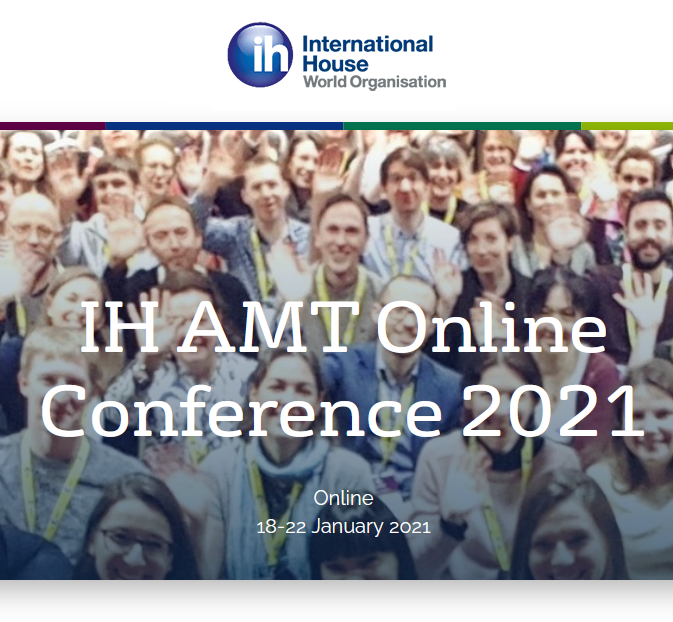 Saturday 23rd January 
11:45 - 16:30 (to book please click here )
Programme overview
11.45 Zoom Room Opens
12.00 Lucy Horsefield, Managing Director International House World Organisation - Welcome
12.15 Andy Hockley  – Academic Leadership in times of Covid19 
13.30 Sandy Millin - Clearer Communication
14.15 Shaun Wilden - Where's the water cooler? The effect of learning communities in online teacher training. 
15.30 Caroline Fonesca & Diana England - Leading and managing during a pandemic – what we've learnt about keeping teams together
16.15 Q&A with Panel of IH Management Experts
This event is completely free of charge, you simply need to register here.

Session Abstracts 
Andy Hockley  – Academic Leadership in times of Covid19 
All of us faced many serious challenges in 2020. In the midst of this unexpected and very difficult situation, amazing things were achieved despite all the challenges.  However as the immediacy passes, we are left with a number of issues to deal with. Now more than ever it can seem that as leaders and managers we need to both plan for the future and deal with the present, dealing with all the issues that are bombarding us every day.  How can we maintain a strategic approach during this time with all that we are dealing with and with such uncertainty about the future?  How can we, at the same time, keep teachers and other staff motivated?  
This talk will look at how clear and effective leadership continues to be so important at this time. I will present some models of leadership and connect them to the current situation.  Subsequently I will suggest some practical approaches to turning these ideas into concrete actions which will help you to better lead your team.
Andy Hockley is a freelance educational management consultant and trainer. He has been training managers for 20 years and has been coordinating and training on the IDLTM (International Diploma in Language Teaching Management) since its inception in 2001, and is the global lead trainer for the course. 
He is co-author of 'From Teacher to Manager' (CUP, 2008), 'Managing Education in the Digital Age' (The Round, 2014), and also co-author of the soon to be published "Managing Technological Change" (CUP 2021). He is also the co-ordinator of IATEFL's Leadership and Management Special Interest Group (LAMSIG)
Shaun Wilden –  Where's the water cooler? The effect of learning communities in online teacher training.  
With 2020 forcing a lot of teacher training online many educators are exploring what makes a successful online course. Peer to peer social presence, the psychological perception of people being present, is a regarded as a basic tenet of online education, especially in asynchronous  courses. A plethora of research suggests the more a learning community can be established, the more trainees will enjoy their online experience.   However, for this to be true then doesn't everyone have to have the same expectations of learning community? Curious to find out,  I undertook research to discover what the preconceptions and experiences of people taking courses on the IH World Online site were. This talk presents some of my findings and offers some suggestions to better inform both course design and  tutor roles in online courses .
Shaun Wilden is the Academic Head of training and development for the International House World Organisation and also a freelance teacher, teacher trainer and materials writer.   Amongst other things he works for the University of Oxford teaching the digital literacy module of a premasters course, and leads a course in effective online course design.. He is a trustee of IATEFL and for a hobby he makes the TEFL commute podcast for teachers.  
Clearer communication - Sandy Millin (IH Bydgoszcz) 
Communication is the keystone of management, with the quality of your communication making the difference between a team that resents every change you make and one that will follow where you lead. Clear, supportive communication is something I feel very passionate about, and have worked on a lot over the past few years. In this talk, I can offer various tried and tested tips to improve the effectiveness of online and offline communication with your team, hopefully leading to a more positive, supportive environment for all of you.
Sandy Millin is the Director of Studies at International House Bydgoszcz in Poland. She is also a CELTA trainer and materials writer. She has self-published three books: Richer Speaking, ELT Playbook 1 and ELT Playbook Teacher Training. She blogs regularly at http://sandymillin.wordpress.com and tweets @sandymillin.  
Leading and managing during a pandemic – what we've learnt about keeping teams together – Caroline Fonseca & Diana England (IH Torres Verdras) 
Many teachers have found that the working conditions the pandemic has created are not conducive to the creative, collaborative working environment we are used to. This session will look at what we've been doing to keep our teaching teams working as a cohesive, motivated community and ensure the quality teaching our students expect.
Diana England has forty years experience as a teacher, trainer and course writer and is currently co-owner and Director of Studies of IH Torres Vedras and Lisbon. Caroline Fonesca is Assistant Director of Studies at  IH Torres Vedras and Lisbon and also an experienced trainer.
---