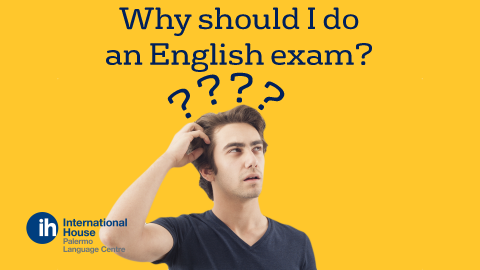 Some students take exams because they need them for a specific purpose; however, there are also many other reasons to take an English exam.
Let's have a look at some of them!

Motivation to improve
When you pay for an exam and you are given a specific date, it gives you huge motivation to make sure that you are ready. It gives you a specific objective to concentrate on and will push you to study more; therefore, your overall English level will definitely increase.

Improve in all areas
English exams look at all 4 skills: listening, reading, speaking and writing. Some students often neglect one of these skills (usually listening and writing), but obviously it's not possible neglect any skill when you are preparing for an exam.

Take an exam for your level
There are Cambridge exams for A2, B1, B2, C1 and C2, so this means you can choose an exam that is appropriate for you (or your child). If you are B1, obviously it makes no sense to try and prepare for a C1 exam, but some students prefer to prepare for an exam that is slightly above their level, as this often creates motivation to improve.
Once you have done one exam, you can then start working towards the next one so that you continue improving. Many students reach a certain level then don't improve any further, taking an exam is a way to avoid this.

Exams are internationally recognized
If you want to move to an English speaking country, an English exam will be extremely useful (or in some cases, obligatory). Not only that, but if you move to a country where English is not the first language, it is still the language used to communicate in the world so many jobs require you to have a certain level. Having a certificate that is internationally known will give you the possibility to prove your level.
Exams are nationally recognized here in Italy, as jobs in tourism, working for the government and often entry requirements for universities… an English exam can open a lot of doors!

Be different from the rest
This is especially true for the job market. The job you are applying for might not ask for a certificate in English, but it is an achievement to put on your CV and something that makes you more interesting as a candidate.

Conclusion
The only 'negative' of doing an English exam is the hard work you will need to do before it so that you are fully prepared, but like everything in life… the best things only come through hard work!